0

FLUCTUATIONS
Aufrufe: 437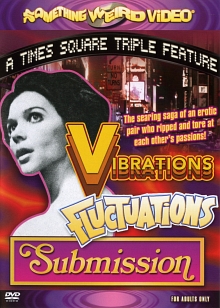 FLUCTUATIONS

(DVD: Something Weird Video, USA)
(OT: Fluctuations | USA 1970 | Regie: Joel Landwehr)
Infos zum Film:
IMDB
OFDB
Eine junge Frau liest in einem erotischen Roman und visualisiert in ihren Gedanken die Handlung des Buches...
What the fuck?!? Fluctuations von Regisseur Joel Landwehr ist ein Z-Movie aus dem New Yorker Underground der End-60er/Anfang-70er Jahre, einer Zeit, in der das Kino in Teilen sowieso langsam damit anfing, komplett Amok zu laufen. Landwehr verzichtet dabei vollkommen auf eine Handlung, und konfrontiert den Zuschauer stattdessen knapp 70 Minuten lang mit abgedrehten Bildfolgen und noch abgedrehteren Soundeffekten. Das waren bisher wohl die längsten 70 Minuten meines Lebens. Der Einfachheit halber zitiere ich mal den entsprechenden Covertext der DVD von Something Weird Video: "A bizarre don't-even-try-to-make-sense-of-it bombardment of sexual imagery that plays like stream-of-consciousness from a degenerate: threesomes, foursomes, lesbians, bondage, hair-whipping (!) and, believe it or not, even kung-fu. Avant-garde masterpiece or pure gutter trash? Perhaps both…". Dem ist eigentlich nichts mehr hinzuzufügen.
Ich dürfte somit am Grund des Exploitation-Sumpfes angelangt sein.

Joel Landwehr
1970er
female nudity
Sexploitation
Roughie